Choosing the Right Retail Management + POS Solution for Your Business.
Choosing the right retail management solution and POS system in Kenya can seem overwhelming in today's rapidly evolving retail landscape. Introducing SalesLife—a cutting-edge, practical POS system tailored to meet your precise business requisites.
Gone are the days when a POS system merely handled transactions. SalesLife's retail management + POS solution transcends convention and goes beyond the realm of sales processing. It becomes the heartbeat of your daily sales operations, serving as both a guardian for your inventory and a catalyst for well-informed decisions. This, in turn, propels your business towards prosperity within the dynamic ebb and flow of the retail arena.
Join us on a transformative journey, redefining your retail experience. Let's dive deeper into SalesLife's limitless capabilities and reveal how it possesses the potential to revolutionize your business like never before.
What more does SalesLife POS System offer?
SalesLife POS not only guarantees seamless sales processing but also functions as an all-in-one solution to meet your business requirements. Upon adopting SalesLife, you unlock the potential of SalesLife 365, a comprehensive solution that seamlessly integrates Dynamics 365 Business Central ERP with SalesLife POS. This transition empowers you to gain comprehensive access and control throughout your entire retail ecosystem, covering both backend and frontend functionalities. Effortlessly configured with Dynamics 365 Business Central at the central location, SalesLife POS facilitates smooth deployment across both on-premise and cloud environments. This integration substantially enhances end-to-end retail management, leading to a reduction in manual efforts and optimization of operations for significantly improved efficiency.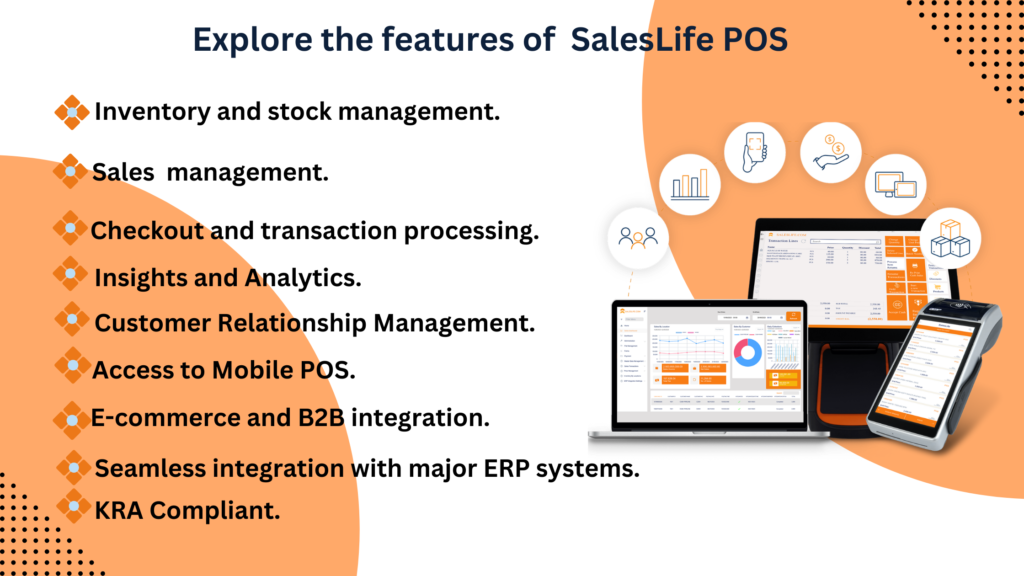 Features that make SalesLife the Best POS System in Kenya.
With SalesLife, you can smooth out and improve your work process, monitor your stock, and access basic information that can assist you in pursuing more informed business choices. This enables you to spend less time on routine tasks and more time focusing on your customers.
The following are eight features of SalesLife :
Inventory management.
Inventory management is one of the most important capabilities of SalesLife is, it enables you to keep track of your stock movement. With this information, you are able to maintain constant stock levels in your store, ensuring customer satisfaction. SalesLife automates all your inventory activities, reducing manual data inputs of items as they get sold out. These help in saving time and allow you to concentrate on other strategic activities.
SalesLife POS allows you to:
Digitally scan and count items.
Create product variations (size, color) to manage your inventory.
Give each piece of inventory a unique serial number.
Monitor inventory levels in several places.
Allow for frictionless ordering by, for example, automatically arranging bespoke reorders of best-sellers.
Combine purchases and orders into a single order.
Access to Mobile POS.
The evolution of technology has made it easier for retailers to sell their goods anywhere and anytime. SalesLife not only offers in-store POS software but also a mobile point of sale that makes it easy for retailers to complete transactions on the go.
Whether you have a fixed brick-and-mortar store or a temporary setup like a pop-up shop or food truck, SalesLife POS adjusts to your requirements, ensuring smooth operations and seamless transactions. This feature allows you to transform your smartphone or tablet into a functional POS system, enabling sales anywhere, anytime.
Flexibility.
With the rise of omnichannel shopping experiences, retailers find themselves requiring adaptable solutions to maintain a competitive edge. That's where SalesLife POS, a cutting-edge software, steps in, seamlessly integrating the best aspects of on-premise and cloud-based point-of-sale systems. In the event of internet interruptions, SalesLife POS continues to function without a hitch, securely storing your data. This process persists until the internet connection is reestablished, at which juncture the POS seamlessly transfers the accumulated data to the cloud. By employing this unique technology, you not only maximize revenue but also economize time and resources. Furthermore, this innovation ensures an uninterrupted customer experience, effectively eliminating service disruptions that might arise when Internet connectivity falters.
Insights and Analytics.
Staying ahead of the competition in today's fast-changing retail industry needs more than simply having an intuitive point-of-sale (POS) system. To make informed decisions, promote growth, and optimize profitability, you require real-time data and extensive analytics. SalesLife's Insights and Analytics provides comprehensive business intelligence reports on your store's operations that help improve your business decisions.
Seamless ERP integration.
SalesLife POS smoothly integrates with major ERPs like Dynamics 365 Business Central, SAP, Sage, and QuickBooks. This facilitates a seamless flow of data throughout your entire business ecosystem. As a result, you can effortlessly synchronize information between your management system and vital functions like finance, inventory management, and the supply chain.
E-commerce and B2B management.
In the ever-changing retail landscape, adaptation is key to staying competitive. A crucial shift involves merging physical stores with online platforms, maximizing sales channels, and enhancing customer experience while streamlining operations. In accordance with your business needs, SalesLife POS gives you the flexibility to either adopt SalesLife e-commerce or SalesLife B2B e-commerce.
SalesLife e-Commerce is a cloud-based platform that enables effortless online sales for businesses of all sizes, offering a comprehensive online store setup and management solution. On the flip side, SalesLife B2B e-commerce empowers businesses to efficiently handle orders from regular clients. This feature facilitates quick orders, real-time monitoring, secure payments, and timely delivery, ensuring a seamless digital customer journey.
Sales management.
As a retailer, the pursuit of business growth and expansion remains a primary goal. Consequently, effective sales management emerges as a pivotal aspect of your POS system. Within this context, SalesLife POS achieves seamless integration with diverse bank accounts, affording you the ability to accept a range of payment options—ranging from traditional cash payments to liquid forms of payment. This adaptable approach grants your customers the freedom to choose their preferred bank account for transactions. By providing this level of flexibility, you can ensure a favorable customer experience that fosters repeat business, solidifying your retail success.
For managerial and administrative concerns, SalesLife POS :
Automatically create sales reports that take into account products, hours, employees, the entire cost of goods sold, total amount spent, net profit, profit margin, and gross margin.
Gives summaries and graphs of your store's sales progress.
Customer Relationship Management.
Cultivating a robust customer base stands as a fundamental, if not the primary, goal for retailers. Naturally, individuals prefer to shop in places where they sense genuine appreciation and their needs are attentively met. SalesLife POS has an integrated customer loyalty program, empowering you to craft personalized promotional campaigns tailored to your clientele. This strategic approach not only fosters repeat business but also nurtures enduring relationships with customers, fortifying your retail success.
SalesLife POS loyalty program feature allows you to:
Connect a consumer to a sale or transaction.
Keep a record of the purchases made by your customers.
Take down information about the customer including name, age, birthdate, phone number, and email address.
Develop an integrated loyalty program.
Employee management.
Lastly, employees represent the core of your business. Consequently, they require well-defined job descriptions and a commitment to achieving their key performance indicators. SalesLife POS system grants you the ability to assign and rotate job responsibilities, authorize user rights, assess productivity, and ultimately boost collective effectiveness. This simplifies the process of monitoring work shifts and devising strategies to either sustain or enhance their performance, both of which contribute to the success of your business.
Benefits of using SalesLife in managing your business | The best POS System in Kenya.
Streamlined payment processing.
SalesLife streamlines your payment processing, facilitating seamless management of cash transactions. As a cashier receives purchased goods, the system instantly calculates the price. Simultaneously, an invoice is promptly printed using a receipt printer, granting customers the choice to pay via cash, credit, or debit card. This streamlined process not only reduces payment processing time but also reduces customer wait times. Consequently, your employees are empowered to efficiently serve a greater number of customers throughout the day.
Improved customer service.
Ensuring an exceptional customer experience is vital for heightened satisfaction. Moreover, SalesLife expedites transaction processing, outpacing traditional manual methods involving paper and calculators. Given consumers' impatience with waiting, a swift point-of-sale system becomes crucial. Notably, SalesLife offers cross-selling tools, empowering you to present complementary items alongside a customer's purchase. For example, when a customer buys a loaf of bread, your employee can suggest a tube of bread spread. This approach enhances not only their contentment with the purchase but also encourages subsequent visits.
In today's technologically advanced era, retailers increasingly recognize the significance of an e-commerce platform. SalesLife e-commerce allows customers to conveniently explore and order products from their homes or workplaces. Seamlessly integrating with e-commerce platforms, SalesLife synchronizes inventory, automates order processing, and elevates the online shopping experience.
Better customer management.
The Best POS system in kenya
Customers are vital in the growth and sustainability of any business. Therefore, there is a need to properly manage them and ensure they always come back for more. SalesLife POS has a built-in module that records your clients' information after every purchase, including their name, phone number, purchases, e-mail, and more.
With this information, you can gain a better understanding of your target audience and customer segments, helping you restock items that match their specific needs. Moreover, you can offer personalized promos to your consumers. This encourages them to return to your business more frequently and establish a loyal customer base in the long run. Proper customer information management enables you to thoroughly understand your customers and make more informed business decisions.
Improves employee management.
Without precise information, optimizing employee work shifts can be challenging. However, SalesLife helps in efficiently managing your workers and devising proper work schedules.
Moreover, SalesLife provides insights into sales per employee, hours worked, and sales per time slot. This valuable data allows you to identify which staff members are performing well and which ones might need improvement. Additionally, it helps you determine the busiest times for the store. Armed with this data, you can easily create work shifts, optimize staff time on the sales floor, and implement ongoing training where necessary.
KRA- Compliant POS.
SalesLife seamlessly integrates with KRA eTIMS giving retailers the edge they need to stay ahead of the competitive market. This integration enables easy and seamless transfer of transaction data, doing away with the need for manual entry and lowering the potential of errors. Experience a whole new level of efficiency and peace of mind as SalesLife handles the complexities, allowing you to focus on what truly matters – growing your business and delivering an exceptional customer experience.
Get 360-visibility of your retail operations in one platform.
Managing an entire enterprise is often hectic as you need to know everything that is happening at all times. SalesLife makes this easy for you by providing a central portal that allows you to oversee and manage all your operations from anywhere you are without having to call for constant meetings and reports. This comprehensive platform includes features like inventory management, customer management, pricing management, reporting, and integration monitoring all in one place.
The Best POS System in Kenya | SalesLife Overview.
ABOUT
SALESLIFE MODULES
PRICING
SalesLife is a comprehensive retail management and POS solution that helps retailers deliver a seamless shopping experience. It is cloud-based, easy to use, and scalable, so retailers can grow their businesses without having to worry about their POS/ retail system.
SalesLife 365 – Seamlessly
integrate Dynamics 365 Business Central,  ensuring that a seamless flow of data, inventory information, and customer details are synchronized in real-time.
SalesLife Mobile POS (MPOS)
Enables you to process transactions on the GO.
SalesLife Central
Gain a Comprehensive 360- View of Your Retail Operations from anywhere you are.
SalesLife Insights & Analytics
Gain actionable Insights and Analytics to help in decision-making.

SalesLife 365 – Seamlessly
integrate Dynamics 365 Business Central,  ensuring that a seamless flow of data, inventory information, and customer details are synchronized in real-time.
SalesLife Mobile POS (MPOS)
Enables you to process transactions on the GO.
SalesLife Central
Gain a Comprehensive 360- View of Your Retail Operations from anywhere you are.
SalesLife Insights & Analytics
Gain actionable Insights and Analytics to help in decision-making.

PARTNERSHIP CATEGORIES
TECHNOLOGICAL PARTNERS
INDUSTRIES
Reseller partnerships – As a reseller, you are responsible for selling SalesLife to your own customers. SalesLife will provide you with all the marketing and sales materials you need, as well as technical support.
Joint marketing partnerships – Collaborate with SalesLife to Develop and Execute Targeted Campaigns across Email, Social Media, and Advertising.
Technology integration partnerships – Seamlessly Integrate Your Products and Services with SalesLife for a Comprehensive Retail Solution. 
Microsoft Azure.
Dynamics 365 Business Central.
SAP Business One.
M-PESA.
Equity Bank.
Kenya Commercial Bank (KCB).
Cooperative Bank.
Glovo.
Woo commerce.
General Retail.
Restaurant.
Supermarket.
Hardware.
Online stores.
Pharmacy.
Wines and Spirits.
SalesLife POS overview
Conclusion.
In conclusion, having a POS system tailored to your business's unique needs alleviates stress, enabling you to peacefully manage other operations. SalesLife understands the distinct requirements of each retailer, providing an advanced, feature-rich POS solution with essential resources. We have solutions for the various retail sectors—general retail, restaurants, supermarkets, pharmacies, hardware, wines and spirits, and online stores. Our dedicated internal department is fully prepared to provide technical support, guiding you to a fitting solution for your industry. From training to setup, onsite and remote services, our team is committed to assisting you. Book a discovery call today and we will walk you through getting the best POS system for the specific needs of your business in Kenya.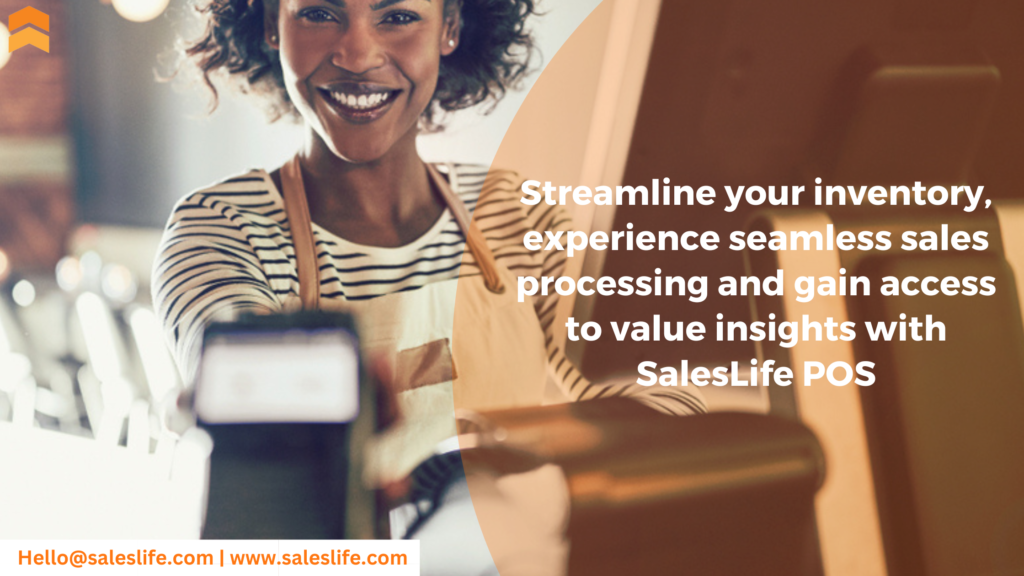 The Best POS System in Kenya