Enterprise resource planning(ERP) is a business management software that integrates all aspects of an organization's operations into a single platform. The ERP system provides real-time data and insights into various departments such as finance, human resources, manufacturing, supply chain management, and sales and marketing. In Kenya, there are a variety of ERP solutions on offer, catering to organizations of different sizes. But before we look at the best ERP systems in Kenya let's go through the benefits of having an ERP system.
Software Dynamics has risen as a prominent supplier of ERP systems in Kenya, catering to various sectors such as retail, manufacturing, food and beverage, healthcare, e-commerce, educational establishments, and non-governmental organizations.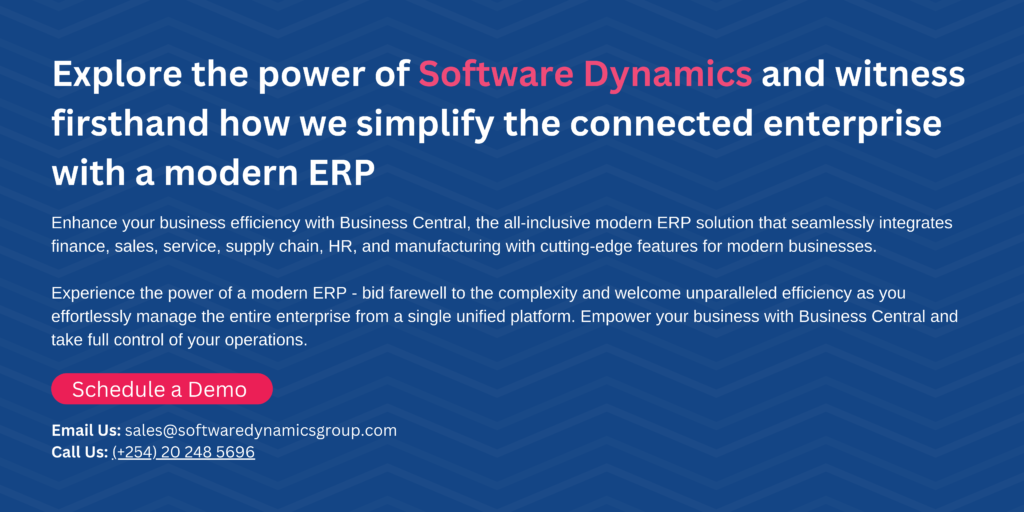 The Dynamics of Enterprise Resource Planning (ERP) Solutions
An Enterprise Resource Planning (ERP) solution stands as a comprehensive business management tool that seamlessly integrates a range of essential functions and operations. These encompass crucial aspects like Accounting, Financial Management, Operational Processes, Sales Strategies, Customer Support, Human Resource Management, Payroll Administration, and the intricate realm of Supply Chain Management.
Through the implementation of an ERP solution, enterprises are empowered to unify their data repositories and optimize their workflows. This orchestration culminates in heightened operational efficiency and a noticeable boost in overall productivity.
Benefits of ERP Systems
Enhanced Operational Agility: ERP systems streamline tasks, liberating time from manual processes. This newfound efficiency allows your team to channel efforts into high-impact tasks, driving productivity to new heights.
Seamless Collaboration Hub: With a centralized database, ERP systems foster collaboration across departments. This interconnectedness fuels quicker decision-making and empowers your team to respond promptly to customer inquiries.
Data Integrity Reinvented: ERP systems establish a singular source of truth, ensuring data consistency and accuracy. Built-in dashboards offer effortless access to insightful reports, eliminating the need for data manipulation and guaranteeing reliable information.
Tailored Customer Excellence: Tracking customer journeys becomes seamless with ERP systems. This insight enables personalized offerings, elevating customer satisfaction and nurturing lasting brand loyalty.
Cost Efficiency Amplified: Automation and process optimization inherent to ERP systems curtail costs across labor and inventory management. Additionally, analytics tools unearth opportunities for savings and revenue generation, leading to a financially optimized operation.
Choosing the Ideal ERP Solution in Kenya: Key Evaluation Factors
When it comes to selecting the perfect Enterprise Resource Planning (ERP) solution in Kenya, several critical considerations come into play. Here's a succinct overview:
User-Friendly Interface (UI): Is the interface visually appealing and user-friendly? Does it facilitate smooth navigation through the system?
Integrated Functionality: Can the ERP solution seamlessly integrate with other features? This integration should aid tasks such as accounting, inventory management, warehouse control, and marketing.
User-Focused Usability: How intuitive is the system to learn and master? Does it come with robust technical support, user assistance, tutorials, and training resources?
Analytics and Reporting Prowess: Does the ERP solution provide customizable, user-friendly reporting and analytics tools to monitor business performance? Is the process of generating, designing, and sharing reports straightforward?
Value Proposition: How well does the cost align with the offered features, capabilities, and your specific use case? Is the pricing transparent, clearly defined, and adaptable?
Seamless Integrations: Can the ERP system effortlessly connect with other tools and systems? Does it accommodate smooth integration with external resources?
Cloud-Based vs. On-Premise: Consider the deployment options. Will the ERP software be most effective as a cloud-based solution (Software as a Service), or would an on-site installation be more suitable?
Real-Time Updates: Does the ERP software enable real-time updates for critical aspects like new purchase orders, inventory changes, or invoice payments? Maintaining accurate, up-to-the-minute information minimizes miscommunication and enhances operational efficiency.
Tailoring to Industry-Specific Demands
As you evaluate an ERP solution in Kenya through the aforementioned criteria, it's crucial to consider the industry-specific demands of your enterprise. This will help ensure that the chosen solution aligns effectively with your business's unique requirements.
For instance:
Manufacturing Focus: Manufacturing companies should emphasize supply chain monitoring and manufacturing processes for comprehensive control.
Distributor Dynamics: Distributors, beyond tracking purchase orders, must manage order processing, logistics, and warehouse operations effectively.
Enterprise Complexity: In sizable organizations, a comprehensive range of functions, including sales, marketing, manufacturing, and distribution, might be imperative. Regardless of scale, businesses necessitate ERP software tailored to their unique operational requisites.
Best ERP Systems in Kenya
Now, that we have looked at some of the benefits, an ERP system offers, here are some of the best ERP systems in Kenya.
| | | | | | |
| --- | --- | --- | --- | --- | --- |
| Tool | Trial Period | Deployment | Key Features | Description | Price per Month |
| Microsoft Dynamics 365 | 30-day free trial | Cloud Based | Financial, supply chain, customer relationship, field service, eCommerce, HR & Payroll, Mobile App Access | Microsoft Dynamics 365 for Finance and Operations, Business Edition, is a cloud-based accounting system with seamless integration into Office 365 and other Microsoft cloud apps. It offers user-friendly navigation and comprehensive functionality. | Starting at $65 USD/user/month for the first module, then $20 USD/user/month for additional modules |
| Sage | – | Cloud-based | Financial, supply chain, HR, project management | Sage stands as a user-friendly mid-tier accounting and ERP solution. While easy to navigate, its capabilities and supplementary modules are restricted, and it slightly trails competitors in drill-down and customization features. | Starting at $40/month |
| Oracle Netsuite | – | On-Premise, Cloud-Based | Financial, inventory, order management, HR, e-commerce | Oracle NetSuite, optimized for cloud utilization, prioritizes user-friendliness and modularity. This robust financial tool can conveniently expand by purchasing additional cloud-based functionality to fulfill diverse business requirements. | Starting at $999/month |
| SAP ERP | 90-day free trial | On-premise, Cloud-based | Financial, supply chain, analytics, customer relationship | SAP Business One Professional serves as a feature-rich and flexible ERP platform, albeit designed with a traditional approach, which could be intricate for some users, particularly small to midsize businesses (SMBs). | Starting at $3200 USD/user for a perpetual license |
Enabling Secure ERP Implementations
Here at Software Dynamics, our objective is to not only ensure the efficiency of your ERP implementation but to make it truly transformative. We're dedicated to optimizing your operational processes and paving the way for your business to reach new heights of success. Embrace the assurance of a meticulously executed ERP solution, guided by our experienced professionals. Your journey toward success begins with the right ERP implementation partner – and we're dedicated to turning that vision into reality. Get in touch with our team now by either Booking a Free Consultation Session, emailing us – [email protected] or calling us at – +254202485696.