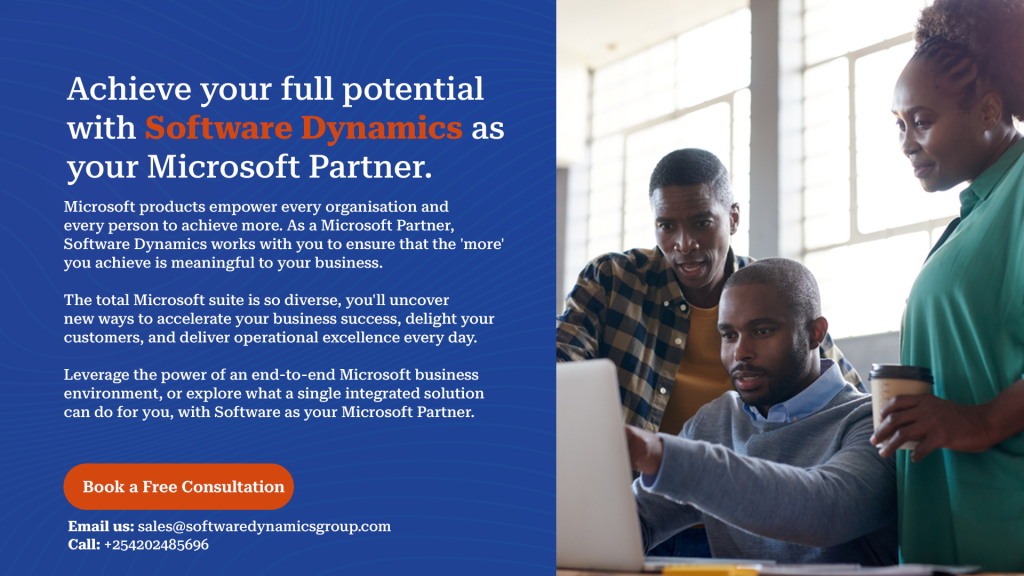 Microsoft Partners In Kenya I Software Dynamics
What is a Microsoft Partner?
A Microsoft Partner is an IT or software development company officially certified by Microsoft. Moreover, Microsoft Partners provide a wide range of services for deploying, integrating, and supporting Microsoft products and solutions.
In addition, Microsoft implementing partners undergo extensive training and testing. As a result, they possess the necessary expertise and know-how to deliver the best possible service to customers.
Why Should You Work with a Microsoft Partner in Kenya?
Microsoft's business solutions present immense potential for modernizing and optimizing your business operations. However, without expert knowledge, maximizing the benefits of these tools becomes challenging. This is where a Microsoft business solutions Partner steps in.
Irrespective of your industry, collaborating with a Microsoft Partner, such as Software Dynamics, empowers you to harness Microsoft solutions. These solutions enhance efficiency, productivity, collaboration, and accelerate your digital transformation journey.
Here are some reasons why you should work with a Microsoft Implementing Partner in Kenya.
Unlimited Access to Microsoft Consulting Expertise
For Microsoft solutions, consultants like those at Software Dynamics excel at crafting custom solutions that adhere to Microsoft's best practices and frameworks. Moreover, they effectively harness the power of cloud-native capabilities, automation, and the innovative "everything as code" approach..
Holistic Advice for System or Cloud Transformation
At Software Dynamics, our team of Microsoft professionals begins by assessing your IT environment thoroughly. Subsequently, they develop a comprehensive modernization plan that aligns with your business objectives. Furthermore, they provide ongoing support throughout the implementation process, system updates, and ensure team alignment with the new approach.
Accelerating Cloud or System Innovation
By partnering with Software Dynamics as a Microsoft business solutions partner, you gain the advantage of seamless collaboration to effortlessly implement, manage, and deploy cutting-edge intelligent ERP, CRM, or Cloud solutions. This collaboration ensures secure operations from any location, leveraging the power of Microsoft solutions and Azure.
Digitizing Business Processes
Through collaborating with a certified Microsoft partner like Software Dynamics, you gain the advantage of swiftly developing data-driven solutions that seamlessly incorporate actionable insights.
Harnessing Cloud-Based Productivity
At Software Dynamics, our consultants will collaborate with you to seamlessly implement business IT solutions that foster true agility. By embracing these solutions, you can unlock the benefits of a contemporary work environment that fosters knowledge and creativity.
Keeping Up with the Latest Innovations
To qualify as a certified Microsoft Partner, proficiency in current technologies is imperative, coupled with staying abreast of the latest advancements in cloud innovations. At Software Dynamics, our consultants adeptly tap into Microsoft's extensive research and development resources to cater to your distinctive business transformation requirements in Kenya. We consistently invest in upskilling and certifying our Microsoft consultants and developers, ensuring that you consistently possess the requisite expertise to triumphantly accomplish your objectives.
Training Support for Teams
By collaborating with an Authorized Microsoft Training Partner such as Software Dynamics, you guarantee that your teams are equipped with the necessary knowledge to effectively utilize the latest Microsoft enterprise solutions. Software Dynamics provides an extensive array of Microsoft training courses, along with Accelerator & Assessment Workshops, available both in-person and online. Additionally, their programs can be customized to perfectly align with your specific requirements.
Factors to Look into When Choosing a Microsoft Implementing Partner in Kenya.
Industry Experience and Expertise
Understanding Your Business: A reliable Microsoft Solutions Partner takes the time to comprehend your business, its unique requirements, and the industry as a whole.
Proven Track Record: Choose a partner with a successful history of implementing and supporting Microsoft solutions for businesses similar to yours.
Long-Term Relationships: Look for a partner with long-standing relationships and satisfied customers, indicating high-quality service.
Quality of Support
Excellent Customer Service: Ensure the Microsoft partner offers prompt and efficient customer service and support when complications arise.
Comprehensive Training: Check if the partner provides training for all users before, during, and after deployment to maximize system utilization.
Ongoing Support and Optimization: Confirm if the partner offers continuous support and process optimization to keep the software efficient.
Flexibility and Easy Scalability
Tailored Solutions: Work with a partner capable of customizing solutions to meet your unique needs and requirements.
Scalability for Growth: Choose a partner who can scale your system to accommodate future business growth.
Future-Proof Solution: Ensure your partner provides a flexible solution that adapts to your evolving business needs.
Product Knowledge and Service Offerings
Comprehensive Services: Consider the partner's service offerings and expertise in ERP/CRM systems, such as Power BI report design, PowerApps & Flow training, Office 365 support, and Microsoft Azure.
Vendor Competencies: Identify partners whose competencies align with your specific requirements.
Understanding Microsoft Suite: Select a partner knowledgeable about the strengths and limitations of the extensive Microsoft suite.
Transparency in Implementation
Clear Project Timelines: Prioritize a partner that establishes transparent project timelines and communicates expected outcomes.
Active Involvement: Avoid partners who keep you in the dark or hesitate at every stage without involving you.
Flexibility in Involvement and Delegation: Choose a partner that supports your business needs, offering flexibility in involvement and delegation.
Why choose Software Dynamics?
Software Dynamics is a leading partner in Kenya, offering Microsoft consulting, solutions, and managed IT services. Renowned for delivering tailored Microsoft solutions that delight customers, we invite you to explore our case studies. As a committed Microsoft transformation partner, we provide trusted implementation support. If you're uncertain about the right solution, schedule a discovery call and FREE consultation to explore your options. Discover the advantages of our comprehensive, integrated solution for your business.
Microsoft Business Solutions Implemented at Software Dynamics
| | |
| --- | --- |
| Module | Description |
| Microsoft Dynamics 365 for Business Central | D365 for Business Central is an all-in-one comprehensive business management solution for small and medium-sized businesses that includes accounting, inventory management, and supply chain management functionality. It is designed to help businesses streamline their operations and improve efficiency. |
| Microsoft Dynamics 365 for Sales and Marketing | D365 for Sales and Marketing offers data, a range of tools, and features to help businesses manage and improve their sales and marketing efforts. This includes features such as lead and opportunity management, marketing automation, and customer segmentation. |
| Microsoft Dynamics 365 for Human Resources | D365 for Human Resources is an integrated solution that provides the workforce insights you need to build data-driven employee experiences across multiple areas hence helping businesses manage the employee lifecycle. It includes features such as employee management, onboarding, and performance management, as well as compliance and payroll management. |
| Microsoft Dynamics 365 for Customer Service | D365 for Customer Service is an all-in-one comprehensive solution that helps businesses manage and improve their customer service efforts. It includes features such as case management, knowledge management, and customer self-service portals. |
| Microsoft Dynamics 365 for Finance and Operations | D365 for Finance and Operations is an all-in-one comprehensive enterprise resource planning (ERP) solution that helps businesses manage financial operations such as accounting, procurement, and inventory management. It also includes analytics and reporting capabilities to help businesses make data-driven decisions. |
| Power BI | Power BI is a data visualization and business intelligence tool that helps businesses to analyze and gain insights from their data. It provides a range of features such as interactive visualizations, data modeling, and real-time data connectivity. |
| Microsoft Azure | Azure is a cloud computing platform that provides a range of services such as computing power, storage, and networking. It is used to build, deploy, and manage applications and services through a global network of Microsoft-managed data centers. |