Operating with an ERP software solution in Kenya has become an essential tool for most businesses looking to streamline their operations and make more informed decisions.
Originally, developers created ERP solutions for large enterprises to manage their entire operations from a single system console. Today, cloud solutions have made ERP implementations more accessible and attractive to small and medium-sized businesses (SMBs).
In Kenya, Software Dynamics has firmly established itself as a frontrunner in delivering cutting-edge enterprise resource planning (ERP) solutions. With an extensive portfolio spanning various industries, including retail, manufacturing, food and beverage, healthcare, e-commerce, educational institutions, and non-governmental organizations, Software Dynamics is the preferred partner for businesses seeking streamlined operational excellence.
At the core of Software Dynamics' success is our strategic choice of ERP solutions. Microsoft Dynamics 365 Business Central, hailed by Forbes Advisor as one of the best ERP systems, stands as our pinnacle offering. This deliberate move provides clients with an unparalleled solution that resonates with their specific needs.
The recognition by Forbes Advisor serves as a resounding endorsement of Dynamics 365 Business Central's capabilities. Its holistic approach to business management aligns seamlessly with Software Dynamics' commitment to transforming operations. This ERP software solution ensures that businesses in Kenya across various sectors can leverage the power of Dynamics 365 Business Central to achieve operational efficiency, elevate customer service, and drive growth.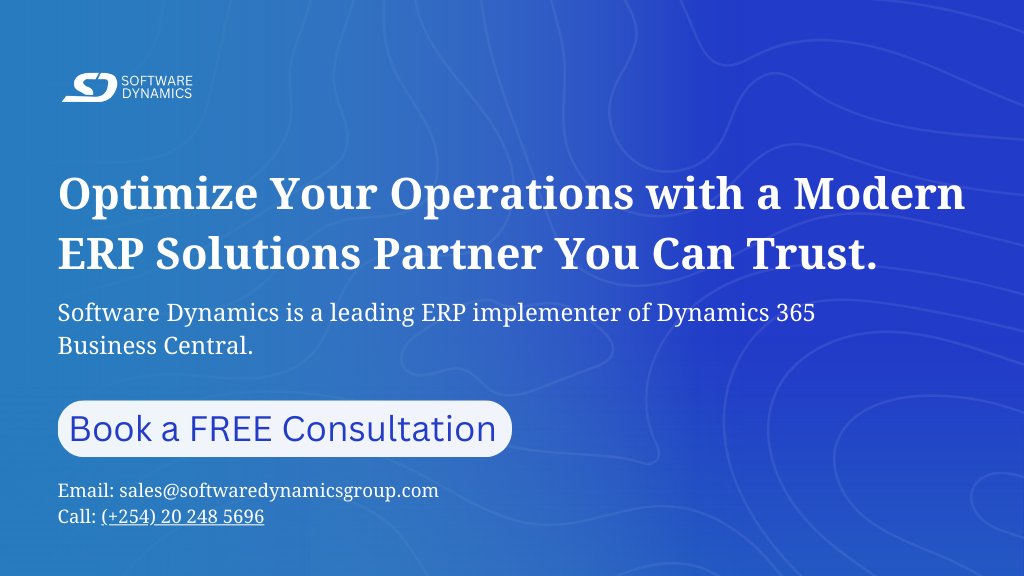 What is an Enterprise Resource Planning (ERP) solution?
ERP Software is a business management solution that integrates various major functions and processes, such as Accounting, Finance & Operations, Sales & Marketing, Customer Services, Human Resources, Payroll Management, and Supply Chain Management, into a single system.
By using an ERP solution, businesses can centralize their data and streamline their operations, leading to increased efficiency and productivity.
What are the benefits of an Enterprise Resource Planning (ERP) Solution?
Enhanced data security by centralizing data and controlling permissions
Streamlined and centralized data for easier tracking and searching
Providing compliance support for financial standards and regulations
Task automation and streamlined processes increase productivity.
Improved visibility into a business's various aspects, improving efficiency and decision-making
Enhanced communication and collaboration within an organization
Real-time analytics and reporting capabilities
Get access to a mobile-first approach. Get on-the-go access to features and functionalities on your mobile phone/ tablet and accomplish daily activities, rather quickly and efficiently.
Criteria for Comparing Enterprise Resource Planning (ERP) Software Solutions in Kenya
So, what should you look for when selecting an Enterprise Resource Planning (ERP) solution in Kenya? Here's a summary:
(UI) User Interface: Is it pleasing to the eye? Is it easy to navigate through the system?
Streamlined Features: Can it integrate with other features to assist in accounting, inventory and warehouse management, and marketing?
Usability: How easy is it to learn and master? Do they offer you good tech support, user support, tutorials, and training?
Analytics and Reporting: Does the ERP solution offer customizable, easy reporting, and analytics options to track and observe business performance? Are reports easy to generate, design, and share?
Value for Money: How ideal is the cost for the features, capabilities, and use case? Is pricing clear, transparent, and flexible?
Integrations: Does the ERP allow you to connect with other tools? Can you integrate with other tools and systems?
Cloud ERP vs On-Premise: There are two common deployment options. Do you plan to make the ERP software cloud-based or deliver it as Software as a Service (SaaS)? Or do you intend to install it on-site?
Real-time updates: Does the ERP software allow for real-time updates on items like new purchase orders, inventory, or invoice payments? Keeping your system accurate up to the minute will help reduce miscommunication and improve efficiency.
Meeting Diverse Needs
When reviewing an ERP solution in Kenya using the criteria above, it is important to consider the industry-specific needs of your enterprise.
For example:
It will be important for manufacturing companies to keep track of their supply chain as well as their manufacturing process.
Also, besides tracking purchase orders, distributors need to ensure proper order processing, logistics, and warehouse management.
Further more, in large enterprises, sales, marketing, manufacturing, and distribution may all be required. Either way, businesses of all sizes need some type of ERP software system that fits their business needs.
Overview of The Best Enterprise Resource Planning (ERP) Software Solutions in Kenya
Tool
Options
Features
Pros & Cons
Price per Month
Microsoft Dynamics 365
30-day free trial

Cloud Based
Financial management, supply chain management, customer relationship management, field service management, supply chain management, eCommerce, HR & Payroll Management, Mobile App Access
Microsoft Dynamics 365 for Finance and Operations, Business Edition is a cloud-based accounting system that's tightly integrated with Office 365 and other Microsoft cloud applications. It's a solid offering that's easy to navigate.
From $65 USD/per user/per month for your first module and then $20 USD/per user/ per month for every subsequent module
SAP ERP
90-day free trial

On-premise,

Cloud-based
Financial management, supply chain management, analytics, customer relationship management
SAP Business One Professional has good features and flexibility overall but is designed as an "old school" enterprise resource planning (ERP) platform. It may be too complex for many users especially small to midsize businesses (SMBs).
From $3200 USD/user for a perpetual license
Oracle Netsuite
On-Premise,

Cloud-Based
Financial management, inventory management, order management, HR management, e-commerce
Oracle NetSuite is written for the cloud, focusing on ease of use and modularity. It is a solid financial platform that can be easily expanded to meet other business needs simply by buying additional functionality through the cloud.
Prices start at $999/month
Sage
Cloud-based
Financial management, supply chain management, HR management, project management
Sage is a mid-range accounting and enterprise resource planning (ERP) software solution that is easy to use. But its functionality and expansion modules are limited, and it lags slightly behind the competition in drill-down and customization features.
Prices start at $40/per month
Need Expert Help Implementing The Right ERP Solutions in Kenya?
Software Dynamics has helped several enterprise clients make a seamless switch to an effective Enterprise Resource Planning (ERP) Software Solution in Kenya with its end-to-end customization and system integration services. We provide tailored ERP and CRM development and customization solutions to suit each business requirement. Get in touch with our team now by either Booking a Free Consultation Session, emailing us – [email protected] or calling us at – +254202485696.