Business Intelligence (BI) and Data Visualization are key components in modern business processes. If understanding data has been a barrier at your organization, this article is the solution for you. At Software Dynamics, we care about:
Giving you a competitive edge in your business
Solving your problems
Modernizing your business
In this informative article, delve into the world of business intelligence and data visualization concepts. Gain an understanding of the tools used and explore the diverse benefits they offer to your business.

Business Intelligence and Data Visualization ABCs
Business Intelligence is the practice of collecting and organizing data from multiple sources, such as databases, spreadsheets, or even cloud platforms then processing and transforming this data into visualizations, reports, and dashboards that provide an absolute view of the organization's performance.
The practice of gathering, analyzing, and transforming raw data into key observations that drive informed business decisions allows businesses to extract meaningful information from various data sources and convert it into actionable knowledge.
What's more, small and medium-sized businesses equally benefit from it, not just large enterprises. By implementing business intelligence solutions, organizations of all sizes can gain a deeper understanding of their customers, streamline operations, and achieve their strategic goals.
Complementarily, data visualization is the method of presenting complex data in a visually appealing and easily understandable layout. It involves the use of charts, graphs, maps, and other visual elements to represent data patterns, relationships, and trends.
Data visualization aims to present information clearly and understandably, helping personnel understand important insights and make smart choices. It transforms raw data into visual images, making complex ideas easier to grasp for everyone.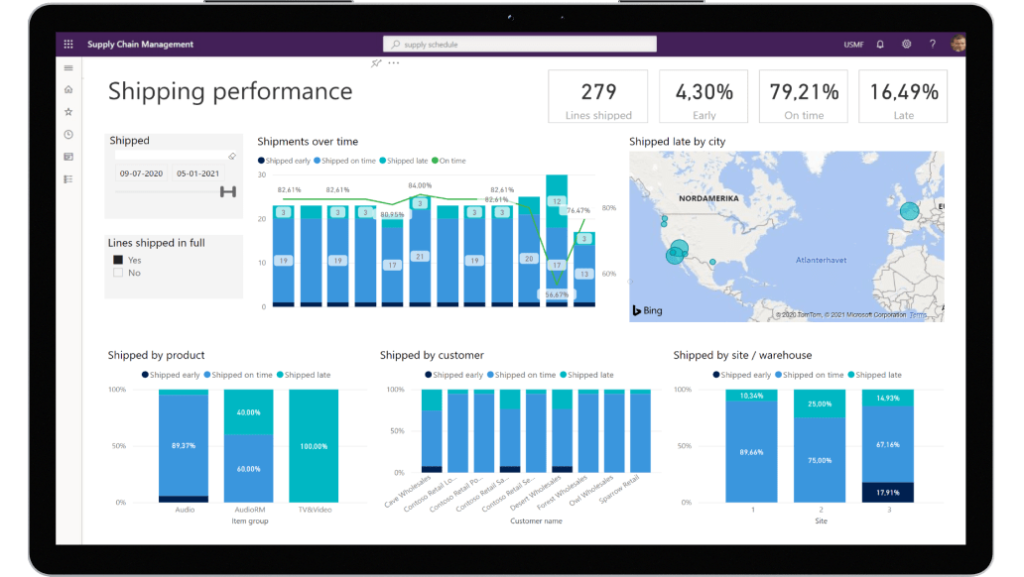 How Can Business Intelligence and Data Visualization Help You?
Now that you understand what business intelligence and data visualization is, naturally, the next question is how can these solutions supercharge YOUR business. "Why should I invest my hard-earned money?" It's time to dive in and discover the game-changing benefits that will elevate your business.

Sake #1: Competitive Edge
By harnessing Business Intelligence and Data Visualization, your business has a quicker reaction time to customer preferences and upcoming trends. This enables your business to stay ahead of its competition and act quickly, making informed decisions from the data, not shooting in the dark.
Sake #2: Driving Customer Loyalty
Being able to better understand your clientele will put your business in a better and stronger position in your market. That's how data insights obtained through business intelligence and the utilization of data visualization tools can benefit your business.

By analyzing data, businesses can gain a richer understanding of their target audience. Not only that, but this analysis provides insights into customer behaviors, patterns, and desires. Therefore, businesses can tailor themselves to better meet their customer's requirements and promote loyalty through customer satisfaction.
Sake #3: Corporate Strategic Planning
On top of finally being able to understand your data with data visualization tools, an added benefit is being able to see the future of your company by having a comprehensive view of your business. Business Intelligence and Data visualization give a view of industry trends, market dynamics, and overall business performance. These insights come in handy during goal setting, strategizing, and creating KPIs. It keeps businesses realistic and is an essential step in helping create realistic and achievable goals.
Sake #4: Mitigating Risk
Data analysis through data visualization makes it easy to pick up on trends and overall performance, as has been established. This, in turn, produces another benefit. Being able to identify potential risks and be proactive about mitigating them. For example, if you own a manufacturing company and output has been decreasing the past two quarters, the repercussions of that continued decrease could be huge. With business intelligence, you can note this trend earlier, making it easier to mitigate this risk. As such, you are able to make decisions with confidence.
Sake #5: ROI
Business intelligence and data visualization tools enable business leaders to perform certain actions. Businesses can make proactive data-informed decisions, optimize areas of their businesses, and drive growth (of both revenue and scale). All this is accomplished from data that may have been ignored before, for being too complex.
What was once complex can easily be simplified, and translated by the use of Dynamics 365 Business Central and Power BI. From the benefits provided, it is clear that an investment in these tools offers a long-term return on investments that outweigh the cost of implementing them.
See It to Believe It: Power BI and Dynamics 365 Business Central
Data generated by Dynamics 365 Business Central can easily be translated using Power BI. Microsoft Power BI is an exceptional data visualization platform that retrieves data and transforms it into comprehensible content using dashboards and reports. This cloud-based service allows users to publish, share, and collaborate on reports and dashboards. Power BI offers a more flexible option compared to Business Central. Users can customize the visualization, merge data from multiple sources, and embed within Business Central without leaving the system.
Ready to take your business to the next level with Business Intelligence and Data Visualization? We understand that making a major shift in your operations may raise doubts and concerns. That's why we're here to support you every step of the way. Introducing our Learning Labs and Discovery Calls—designed to provide you with the knowledge and guidance you need.
In our Learning Labs, you'll gain access to tailored content that dives deeper into Microsoft Solutions, empowering you with the information to elevate your business. Our Discovery Calls offer one-on-one interactive sessions with our experts, where you can ask questions and receive personalized insights.
Don't let uncertainty hold you back. It's time to embrace the transformative power of Business Intelligence and Data Visualization. Schedule your Learning Lab and Discovery Call today, and let us guide you toward success. Your business deserves to thrive.